Journey of the Spirit Man
by George Mendoza
Praise for George Mendoza and Journey of the Spirit Man
A parable about living and dying that draws inspiration from various cultures and fables. In this brief, inspirational novel, author Mendoza uses aspects of different belief systems, including Christianity, and multiple civilizations, apparently in an attempt to get readers to see their lives in a larger context and to encourage them to live to the fullest. The story moves along briskly, quickly shifting from one culture to the next as Michael pursues his journey. But the speed of the story never hampers the protagonist's character development, and he shows true growth as it proceeds. The setting descriptions are well thought out and give the novella a solid sense of place even when the shifts between them are dramatic… A spiritually minded novel with fine description and characterization. –Kirkus
An inherently absorbing read from cover to cover, Journey of the Spirit Man is an extraordinary and original novel by an author with an impressive, entertaining, narrative driven storytelling style making this an especially and unreservedly recommended for community library collections and the personal reading lists of those who appreciated a deftly crafted and memorable read that will linger in the mind and memory long after the book itself is finished and set back upon the shelf. –Midwest Book Review
A spoiled young man comes of age in the novel Journey of the Spirit Man, where spiritual encounters teach him compassion and self-forgiveness, as well as to recognize his privilege. –Foreword Reviews
Praise for George Mendoza Colors of the Wind:
"When his best friend dies, Mendoza finds purpose in painting (with brushes or fingers) his kaleidoscopic perception; these paintings appear throughout the book. His heavy, bold streaks and swirls of color depict key events, focusing his story in ways the short sentences supplemented by Morgan-Sanders' minimalist line drawings cannot; it's hard to look away from a swarm of blurry butterflies or a basketball hoop painted like a blazing eye."-Kirkus Reviews
"Powers traces the life of Mendoza, a blind painter, accompanied by Mendoza's own striking paintings….Reproductions of Mendoza's bright, abstract paintings appear opposite the text and small line drawings of George running and interacting with others." –Publishers Weekly
The Spirit Man series
Michael Seymour lived a charmed life-a wealthy, good looking young man who took for granted his status as a popular star athlete, top student and beloved son. Then it all came crashing down. A champion runner, Michael is in college, preparing for a big race, when he finds himself distracted, unable to focus, and then, mid-race he passes out. Not only does Michael lose the race, but he discovers the reason for his fall-unbelievably he has a rare and incurable disease. Devastated by the news, he seeks to forget everything, at least for one night, and drags his best friend Mark out with him to drown his sorrows, only to have the evening end in tragedy when Mark is killed. But for Michael, this is just the beginning of a long and fantastic journey of self-discovery and redemption.
The first book of a series, JOURNEY OF THE SPIRIT MAN (Wise Tree Press; On Sale: May 2021) by George Mendoza will appeal to readers of The Maze Runner and The Alchemist and is inspired by events in the author's own life.  At age fifteen, Mendoza was a star runner, when he suddenly went blind due to a degenerative eye disease that caused him to lose his central vision and see things that weren't there—eyes floating in the air, extraordinary colors, objects multiplied and reflected back. Mendoza describes this condition as having "kaleidoscope eyes."  Despite this adversity, Mendoza continued to run, training hard, and in 1980 he broke the world record for blind athletes and went on to use his new "vision" to create paintings that have been exhibited internationally via the National Smithsonian traveling art exhibit. In 2011, Mendoza had a terrible hiking accident near his home in the mountains of New Mexico. He fell thirty feet, broke his arm and teeth and suffered from cluster headaches for a long time after the fall. The headaches also caused him to have vivid visions which he painted and used to develop his first novel JOURNEY OF THE SPIRIT MAN, which is also a tale of triumph over adversity.
Following his best friend Mark's death in the book, Michael again tries to escape, this time by running in the desert hills of New Mexico, pushing himself farther and farther. Exhausted and dehydrated, not sure if what he is experiencing is real or a hallucination, he passes through a set of magical gates and enters into an alternate reality. Michael goes on a vision quest where he passes through various and increasingly hellish journeys—a Roman slave city with Coliseum-style fights to the death, a pilgrimage with thousands of others who look up to him as a leader, a mockery of paradise, and, finally, a land that resembles Ancient Egypt, where he attains self-realization and becomes a leader known as The Spirit Man. Eventually, Michael is able to return to his own world, physically depleted but spiritually reborn, and able to see those around him and appreciate his place in the world with empathy and compassion for the first time.
Like Mendoza's own life story, JOURNEY OF THE SPIRIT MAN will captivate, uplift and inspire.
About the Author: Based in Las Cruces, NM, George Mendoza is a world renowned artist and writer and the Chief Executive Officer and President of the Wise Tree Foundation, Inc., which was established in 2013 to promote the arts for the disabled. Mendoza went blind when he was 15 and broke the world record for blind athletes running the mile in 4 minutes and 28 seconds in 1980. His art exhibit Colors of the Wind is on view with the National Smithsonian and he has also written a children's book based on the exhibit. He was the producer for two nationally televised PBS documentaries based on his life story and has won many awards in the arts. Currently a screenplay based on Mendoza's life is being developed by writer Daniel Landes.
Journey of the Spirit Man by George Mendoza
Wise Tree Press; ISBN: 9780578756950
 Price: 17.99 Pages: 176
For more information or to receive a review copy, please contact Jessica Powers, J.L. Powers PR, 915-588-7893 or jlpowers@evaporites.com.
Running Toward the Light: The George Mendoza Story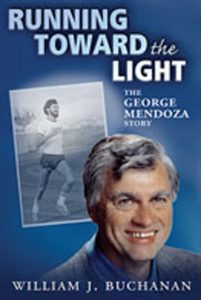 At the age of fifteen, George Mendoza lost all of his central vision and 80 percent of his peripheral vision. After months of research, Mendoza's mother learned bright light could sometimes help those with vision problems similar to his. In 1972, hoping to help her son, she moved them both from New York to Las Cruces, New Mexico.
Mendoza was angry and bitter; he was a teenager who faced limitations he had never imagined. Enrolled in the New Mexico School for the Visually Handicapped, he renewed an earlier passion for running track, but his resentment did not leave him.
Shortly after high school graduation, Mendoza heard of the curative powers of El Santuario de Chimayó in the Sangre de Cristo Mountains north of Santa Fe. He hitchhiked to the small village, skeptical of a miracle cure. His vision was not restored, but Mendoza underwent a transformation in the Chimayó chapel. He realized he was not handicapped; he was a person with a handicap. "I've got bad eyes, sure, but there's nothing wrong with my heart or my lungs or my legs." He concluded he was meant to be an inspiration to others "with a handicap."
Thus began a new chapter in George Mendoza's life. He joined the track team at New Mexico State University, entered marathons, and, in 1980, ran in the International Olympiad for the Physically Handicapped in the Netherlands.
Today, Mendoza has perfected another hidden talent: he is an exceptional artist and his one-man shows are continual reminders that having a handicap does not diminish the individual's abilities in other areas. This biography of the man who refuses to "be handicapped" will be an inspiration to all who read it.
Colors of the Wind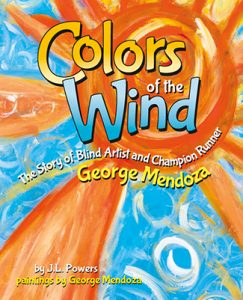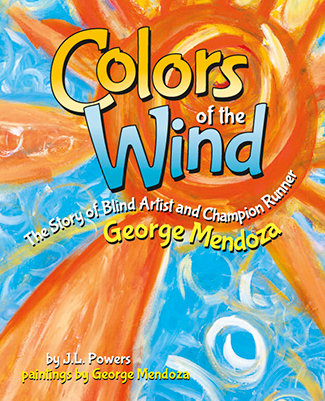 George was one of those kids. You know, the kind that never stays still. And then one day, the doctor said he was going blind. Did that slow George down? Not for a single second. In fact, he was so fast, he went on to break a world record for blind runners. And now he's breaking more barriers—because ironically, George Mendoza, blind painter, paints what he sees.
George Mendoza started going blind at age 15 from a degenerative eye disease. It wasn't the sudden onset of blindness that many people experience. George lost his central vision and started seeing things that weren't there—eyes floating in the air, extraordinary colors, objects multiplied and reflected back. George describes this condition as having "kaleidoscope eyes." He triumphed over his blindness by setting the world record in the mile for blind runners, and later competing in both the 1980 and 1984 Olympics for the Disabled. Now a full-time artist, Mendoza's collection of paintings, also titled Colors of the Wind, is a National Smithsonian Affiliates traveling exhibit.