George Mendoza was born in New York City in 1955. At the age of 15 he was diagnosed with a rare, incurable, degenerative eye disease, fundus flavimaculatus. Effects of the disease caused him to loose all of his central vision and keep only a gray foggy fringe of peripheral vision. In the center of his view he sees what he calls "kaleiddoscope eyes"—intense and changing visual images of fiery suns, brightly burning eyes and colorful pinwheels. These spectacles almost never leave him, not even when he lays down in darkness to go to sleep.
A man of vision and courage, George went on to become a world-class runner, Olympic contender, author, painter and a motivational speaker to the youth and the disabled in America.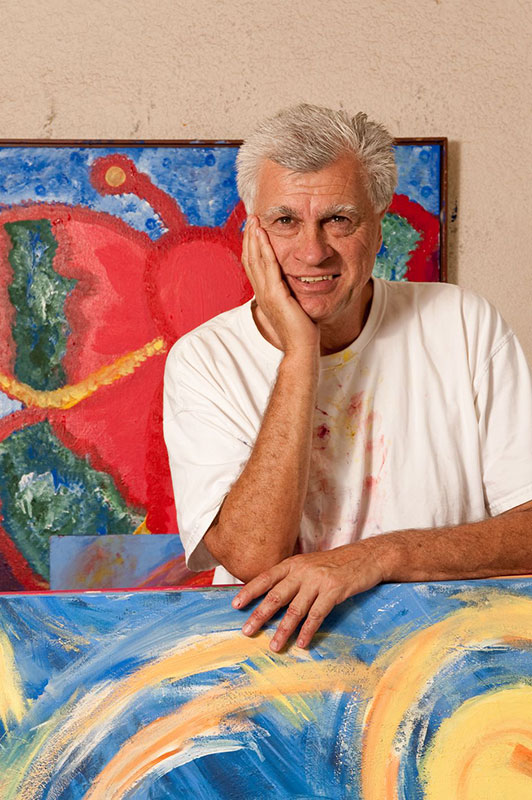 In the early 1990's, he began to paint full-time. Ironically, Mendoza's paintings spring from the loss of his eyesight and a very special vision that took its place.
Many years ago I was getting tired of the eye problems. The dancing colors would not leave me alone. I spoke to a priest at the Holy Cross Retreat House in New Mexico.
"Paint them," he said, "Make designs, pictures from them."
George Mendoza remembers physical sight. His works derive from visual memories intertwined with dreams, visions, and emotional experiences. He has traveled extensively and has encountered many thousands of people in a very personal way. Eyes are a recurring motif, as are scenes of both tranquility and chaos.
Defying categorization, Mendoza paints figuratively and abstractly. Having never received any formal training, he is an "Outsider Artist". He is a Visionary Artist, whose work transcends the mere physical world—exploring the spiritual, the mystical, the playful, and (sometimes) the darker nuances of the human spirit."
In 1980, Mendoza broke the world record for blind athletes, running the mile in 4 minutes and 28 seconds.  Mendoza now works full time as a writer and an artist.  Currently, his exhibition, colors of the wind, is a national Smithsonian affiliates traveling art exhibit.  He lives in Las Cruces, New Mexico, and is founder and president of the Wise Tree Foundation, Inc., a nonprofit corporation for the promotion for the arts.